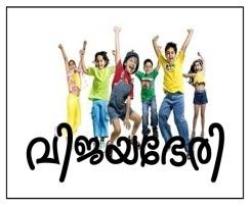 "VIJAYABHERI" is an educational project started in the academic year 2001-02 by the Malappuram District Panchayath with the objective of integrated educational advancement of the district. In the learning it mainly aimed to increase the SSLC result . The Malappuram district was at the bottom in the matter of SSLC results;the result percentage was only about a half of the state average. In the March 2001 examination the state result was 56%. It was just 33% in Malappuram district. And so activities of the "VIJAYABHERI" focused high schools.

Main activities
"VIJAYABHERI" committees were formed in every school. Coordination were identified from among teachers and given special training
Head teachers and PTA office bearers were put through required training .
Calendar of "VIJAYABHERI" activities was prepared for each school; and ensured that each activity was carried that precisely as per the calendar.
Meetings of "VIJAYABHERI" coordinators head teachers and PTA presidents were organised at regular intervals.
Coordination of Grama panchayath and Block panchayath was ensured for implementation of the 'VIJAYABHERI ' projects .
Backward schools were particularly identified and teachers,students and parents were given necessary training .
Hand books for teachers were prepared for difficult subjects,and based on the same teachers were properly trained.
Special remedial teaching was given to backward students, in the mornings and evenings in the all school.
Organised a special study camps during Onam & Christmas vacation .
Under a programme named "UNARV" parent awareness campaigns were organised regularly.
Special mid-term and model exams were conducted in all schools.
After every exam,comprehensive review was made and necessary remedial teaching was carried out.
Focused training was imparted to peoples represent actives to make their interventions more effective.
Special counseling classes were organised to prepare students to face exams with self assurance.
In each high school a lady teacher was identified given intensive training in counseling and then appointed as counselor of the school.
As a result of "VIJAYABHERI" activities, SSLC results, school up to excellent percentage level in the district following table shows the remarkable increase achieved in the SSLC results (from a increasable 33,24% in 2001 to 95.48% in 2014:)
Before "VIJAYABHERI"
1999 - 30.23 %
2000 - 32.00%
2001 - 33.24%

After "VIJAYABHERI"
2002 - 41.23%
2003 - 48.44%
2004 - 58.77%
2005 - 56.63%
2006 - 61.91%
2007 - 76.29%
2008 - 87.09%
2009 - 86.67%
2010 - 86.97%
2011 - 88.52%
2012 - 92.11%
2013 - 91.43%
2014 - 95.48%
2015 - 95.83%
2016 - 95.84%
2017 - 95.53%
2018 - 97.76%
The declared aim of "VIJAYABHERI" was to reach the districts SSLC results percentage to the state average.This was more than achieved in 2014 as against the state result percentage of 95.4, the Malappuram district 95.48 %. It is clear from the table below that the district's achievement in quality improvement was also commendable.
No. of institutes secured A+ in all subjects

2011 - 693
2012 - 799
2013 - 1286
2014 - 2056
2015 - 3555

In 2014 Malappuram district achieved the destination of securing the highest number of A+ in the state.
Primary Level Activities:
Vijayabheri committees and coordinators lead activities in all schools.
Review meetings of Vijayabheri coordinators and head teachers at the Panchayath level.
District level review meetings and training for Panchayath coordinators at regular intervals.
Vijayabheri base line study classed are conducted test basic competence of students of 4, 7 sandards and identify backward students.
Remedial teaching is done for students identified on backward through base line tests, by creating special learning aids.
Identify brilliant students and prepare them to appear for LSS / USS exams side by side with the activities in high schools, several interventions were also made in Higher Secondary level. Head teachers' training, career guidance classes talent meets, special workshops for career counselors are also being organized in Higher secondary schools, resulting in improving exam results.
Since the last four years vijayabheri programmes give greater emphasis at primary level. It is with the cooperation of grama panchayaths and municipalities that this is being done. Activities are carried on by identifying vijayabheri coordinators in all schools and conducting panchayath and municipal level review meetings for them regularly Gramapanchayath presidents municipal chairpersons and vijayabheri coordinators give the lead for the various activities.
Coordinate the working of DIET, SSA, DD, AEO, BPO and make school interventions made effective.
Intervention in schools more meaningful through appropriate trainings for panchayath/municipal presidents.
Undertake/organize awareness campaigns for parents, and empowerment of teachers, with cooperation of the panchayaths.
On evaluating the activities in the past years it is clear that vijayabheri has succeeded in producing commendable results at the primary level. It is the dist panchayath's vijayabheri project which energized the panchayath and municipalities to organize various educational programmes.
Undoubtedly it is the unstinted support and cooperation of all educational agencies , SSA, RMSA, DDE, DEO, AEO AND BPO WHICH MADE VIJAYABHERI PROJECT A GREAT SUCCESS. The District panchayath has indeed succeeded in nurturing a new educational culture through the vijayabheri project.
Vijayabheri Coordinators
Sri. Ummer Arakkal Ph. 9447108827
Sri. Saleem Kuruvambalam Ph. 9447533786
Sri. T. Saleem Ph. 9447426132