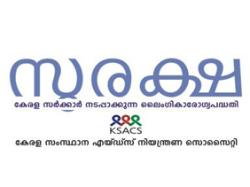 DISTRICT PANCHAYATH
"SURAKSHA FSW TI PROJECT"
Malappuram Jilla Panchayat stands in the forefront in implementing innovative projects in the Health and Education sector. Many such programmes received much acclaim and attention from many quarters including some well known foreign organizations. Jilla Panchayat gladly agreed to accept the challenges in implementing the Target Intervention Projects ''Suraksha'' Project aided by National Aids Control Organization (NACO) with this experience.
Jilla Panchayat Suraksha Projects are considered as a model project of National Aids Control Organaization because, Malappuram District Panchayat is the only a Local Self Government Institution which has implemented a Sexual Health Intervention Project in India. The District Panchayat Malappuram is executing two Suraksha Projects very successfully with the support of Kerala State Aids Control Society.
PROFILE
The District Panchayat President is the Patron of the project governing body and Health Standing committee chairperson acting as Monitoring committee chairman. The District Panchayath Sectretary serving as Project Director. As per the guidelines of Kerala State Aids Control Society a Staff Pattern is fixing each year according to the target fixed for the proposal year. Project Manager, Counsellor/ANM, Monitoring Evaluation Officer, Four Outreach Workers and 17 Peer Educators are working in the project.
TARGET INTERVENTION (SURAKSHA) PROJECTS:
Targeted Intervention (TI) is one of the main components under NACP (National Aids Control Program). The Program is designed to reduce the rate of HIV transmission among the Core Group viz. Female Sex Workers (FSWs), Men having Sex with Men (MSMs) and Injecting Drug Users (IDUs) & Bridge populations like Migrants and Truckers. Kerala TI Programme is branded as ''SURAKSHA''. The Malayalam word ''Suraksha'' means 'Safety'.

The District Panchayath Malappuram is implementing two TI projects, as one for FSW's and another for MSM's. The Main Office of Suraksha FSW Program is situated at Malappuram Kavungal and MSM's Program office at Manjeri. FSW TI project covers the entire district and MSM project covers the area's except the coastal belt. This area is covered under a Ponnani based Non Governmental Organization (NGO).
WHY DISTRICT PANCHAYATH MALAPPURAM EXECUTING TI PROGRAMS (RATIONALE OF IMPLEMENTING TARGETED INTERVENTION):
During the initiation of Suraksha TI project, several questions were aroused from the different corners of society like… Is the number of HIV positivity increased in Malappurm?, Why the district panchayath implementing such high sensitive projects?, Why all innovative projects coming at malappuram? etc…
Hence, the District Panchayath Malappurm overcame all the challenges with the courage of entrusting the people of malappuram who wholeheartedly received all district panchayath innovative initiatives such as 'Vijayabheri' (Educational assistance to backward students), 'Braille Literacy' (Brail literacy for the blind) and 'Pariraksha' (free home care for bedridden) 'Kidney Welfare Society' (dialysis support for kidney failure patients), 'General Hospital Project' (a project of budgeted Rs. 200 millions completed through public fund mobilization) & 'Pratheeksha' (support for physically & mentally challenged children) & 'Thanalkkoottu (campus unity against drugs) etc… are a few examples of those…
As all are we know, Malappuram district is the highly populated district in Kerala. According to the census in 2011, Malappuram had population of 4,112,920 of which male and female were 1,960,328 and 2,152,592 respectively which accounts for 12.31 per cent of the state's total population. The migration rate in and out of the district are very high than compared to other districts. It is a serious concern to a district administrative system which is visioning the high standard living atmosphere for the wellness of people addressing through social and health issues…
VULNARABILITY OF THE DISTRICT:
The increased number of PLHA's in the nearby districts and in the border district of the neighboring state, Tamil Nadu may affect the vulnerability of the High risk populations within the district. Job seekers from other states, particularly in the construction sector have been changed a lot at present. Some years before these groups reached in the district widely from neighboring states of Kerala. But nowadays the trends have been changed and the majority of them are from Northern states like West Bengal, Orissa, Assam, Bihar and Uttarpradesh etc. The migrant sex workers and clients are also coming under migrants group. The trend changes of HRG's from street based to house based or operating through mobile and use of alcohol is tremendously increased among the sex workers and partners are another major vulnerable factor in the HIV/AIDS prevention programme. The migration prevalence rate is 60 migrants over 100 households in Kerala. We have something like 7.89 lakh return migrants throughout Kerala. There are 1.58 million people-who are born in Kerala now living in foreign countries. The migration rate of Malappuram is higher than the Kerala rate.
These reasons may also lead to increase the prevalence rate, HIV/STI burden in the future at malappuram district. In order to achieve the mission to halt and reverse the HIV/AIDS epidemic among the high risk groups in the Malappuram District of Kerala State by 2017 and to contribute to the national goal, District Panchyath Malappuram obliged to continue its activities and HIV prevention programmes among high risk group.
HIV PREVELANCE RATE:
As per the NACO reports on HIV Prevalence in India, national prevalence rate for adult females is 0.29 percent, while for males it is 0.43 percent. This means that for every 100 people living with HIV and AIDS (PLHAs), 61 are men and 39 women. Prevalence is also high in the 15-49 age group (88.7 percent of all infections), indicating that AIDS still threatens the cream of society, those in the prime of their working life. While adult HIV prevalence among the general population is 0.36 percent, high-risk groups, inevitably, show higher numbers. Among Injecting Drug Users (IDUs), it is as high as 8.71 percent, while it is 5.69 percent and 5.38 percent among Men who have Sex with Men (MSM) and Female Sex Workers (FSWs), respectively.
Kerala's HIV prevalence rate has further come down, from last year's 0.19 per cent to 0.12 per cent this year. The total estimated number of those living with HIV in the State is 25,090. The prevalence rate of malappuram district is as 0.09, this figure shows lower than the state average. It reveals the success of HIV prevention programs in the district.
http://www.naco.gov.in/upload/NACP%20-%20IV/HSS%20TECHNICAL%20BRIEF/HIV%20Sentinel%20Surveillance%20Technical%20Brief.pdf
According to KSACS Service Providing Centers reports as on 2014 December shows the registered number of HIV infected persons in Malappuram District are 574. Including 38 cases of them are below 18 years old and 39 are migrants. But several cases are supposed to be not registered in the KSACS service centers. So, according to the KSACS service centers, it is estimated in between 700 to 900.
PROJECT AT A GLANCE:
Since August 2007, Malappuram Jilla Panchayath had been started Suraksha Project, as a composite one, targeting FSW's and MSMs. The area of FSW project intervention was entire district. During the first phase of the project we identified 1100 out of PSA data estimation 4050-4618. During the second phase of intervention, thematically separate project were sanctioned for each High Risk Groups and target was fixed. MSM component was separated and this TI was retained as FSW TI. Since the implementation of the both TI Projects are consolidated adequate experiences in implementing targeted interventions among FSW and MSM groups. The intervention currently operates in across the entire district area, has improved knowledge and risk perceptions of the community on STI/HIV/AIDS and their risk in the context of these social as well as health issues. The project had given more importance to improve knowledge level of target community especially street based sex workers regarding the basics of HIV/AIDS and STD. The project aimed to attain the sustained behaviour change process among the contacted target population within a contract period with proposed budget.
Originally, in Malappuram district another NGO named CBNP conducted a need assessment study cum intervention (PSA) from October 1998 to February 1999. This study was carried out in 49 Panchayaths of Malappuram district and was mainly focused on the knowledge level of RTI/UTI/HIV/AIDS among the general population and health seeking behavior in relation to the above said infections.
The project gained enough experience in the field of HIV/AIDS prevention programme that has been started with limited areas of Malappuram District. Though the project is functioning in the entire district, it is concentrating five major areas like Perinthalmanna, Malappuram, Nilambur, Tirur and Ponnani. The project has established good rapport with the stakeholders and has resulted in development of Community Based Organizationand Self Help Groups.
During the current phase (April 2014 - March 2016) we propose a target population of 1056. As per the project records of last proposal year we found the active population of 1056 those who were accessed the project services regularly. The project can intensify the services for the reinforced behavior change and to maintain the sustainable health seeking behavior among FSW's on regular based contacts. This year we have Four Major Sites and the population distribution is as follows: Nilambur (263), Perintalmanna (268), Malappuram (262), and Tirur (263). The main Drop in Center is functioning in Malappuram and 2 sub-centers has arranged in Nilambur and Perintalmanna. The project team includes Project Director, Project Manager, Counselor, ANM, M&E. Officer cum Accountant, Four Outreach Workers and 17 Peer Educators.
SCOPE OF THE PROJECT:
To prevent and control the spread of HIV/AIDS among core groups to bridge population and general community Jilla Panchayath Suraksha Targeted Intervention projects designed to address the social and health issues of HIV/AIDS.. As the society does not approve multi-partner sexual behavior, any programme among the above group, is viewed suspiciously by the society. Co-operation of the wider society is inevitable for effective implementation projects to address the social and health issues of HIV/AIDS. Co-operation of different strata of society can be realized only if we clear their suspicions, and convince them about the relevance of intervention to tackle the problem.

With the support of several social groups and organizations like political, religious, youth clubs, kudumbasree, CDS, police, health workers, NCC, NSS, trade unions, auto & taxi drivers etc… Zilla panchayath suraksha projects conducted many activities to overcome social stigma. It was not an easy task. The goodwill of district panchayath malappuram helped the suraksha project staff to overcome many obstacles during the intervention. Otherwise, implementation of TI projects was impossible. To make the society aware of HIV/AIDS which has developed into a social problem more than a mere state of illness; convincing the society of its responsibility to control HIV/AIDS and promote sexual health instead of pushing the responsibility to the Government and voluntary organizations. Moreover, the society has to realize that the future responsibility of tackling the problem and implementation of sexual health programmes and its sustainability rest with the society and social systems.
Goal of the Suraksha Project:
The goal of the intervention is to contribute in the national goal of halt and reverse the HIV/AIDS epidemic among the High Risk Groups in the Malappuram District of Kerala State by 2017.
In order to achieve the above mission of NACO and to contribute to the national goal, District Panchyath Malappuram Suraksha Projects will continue its activities and programmes among High Risk Groups to seize and reverse the HIV/AIDS epidemic in the district. During the previous phases, the project could achieve the maximum number in identification, contact and coverage among high risk groups. Hence the activities proposed for the current phase of intervention will focus on sustained behavior change among the contacted HRG's..
It will be achieved through PLOP based outreaching, developing the habit of regular medical check-up and proper treatment for STIs etc. Community mobilization process will also be streamlined to develop second line leadership to build up a sustainable heath seeking behavior among the high risk groups.
Objectives of the Project:
To bring changes in risk behavior from 50% to 100% among the registered 1056 FSW through outreach and communication activities such as new identification, sustained PLOP, regular contact etc. during the period April 2014 - March 2016
To enhance availability and accessibility to precaution methods from the existing 65% to 100% among 1056 HRGs; uptake of Social Marketing from the existing 15% to 25% within the project period.
To streamline basic services within the project period through:
Improved Regular Medical Check up from the current 86% to 100%;
Increased ICTC testing rate from 78% to 100% and
Scale up DIC services for increasing HRG footfall from the current 53% to 75%.
To create an enabling environment for smooth TI intervention by:
Advocating with 12 power structures identified through power analysis.
Take up cases of crisis intervention.
Linkages for social protection services among the need based stakeholders.
To collectivise at least 70 % of registered HRGs in the intervention area during the project period through:
Community events.
Formation, development and strengthening Community committees.
Streamlining activities of the CBO.
Major activities of the Project:
The activities of the proposed project period will ensure the behavior change of all the high risk groups contacted and the community mobilization programmes. Fix day fix time clinic started at the main office will ensure the habit of treatment of asymptomatic and symptomatic STIs and will promote regular STI screening habit among targeted population. ICTC referral services will ensure through the effective networking with the existing outlet of KSACS. The project will provide IPC, Service promotional activities, events, etc will be happen for reduce the risk factor of FSWs. The project will conduct spot wise power analyses to identify the existing power structures which have direct or indirect influence on the behavior change process of the target groups. The established linkages with identified stakeholders and line departments will be maintained well and nourished for fruitful result. To strengthen the community mobilization process, CBO/SHG will strengthen through its linkages with LSG's, IGP programmes, Legal support programme, literacy programmes, etc.
Jilla Panchayath Suraksha Project Team:
· Project Director
· Project Manager
· Monitoring & Evaluation Assistant cum Accountant
· Counsellor/Nurse
· Outreach Workers – 4 (for 4 major sites – Malappuram, Perintalmanna, Nilambur & Ponnani-Tirur).
· Peer Educators (Total 17).
New Initiatives:
Developed and rolled out a special micro soft excel based colour coded tracking tool for tracking the services provided to each HRG. HRGs are marked with red, yellow and green colours representing high, medium and low volume client load. This process has been guiding the TI functionaries to prioritize the high volume HRGs and plan the outreach besides reaching the hard to reach HRGs in every PCU. The tool is also helping to evaluate the site wise performance. Design of the format allows anyone to get information on any HRG within seconds from their computer. This facilitated planning in the project to be individual HRG based rather than hotspot level, site, or project area based.
Site wise Operational Strategies (SOS) and its review rolled out on quarterly basis. In 2010 -11, TSU has introduced regional level Participatory Site wise Gap Analysis, where in site functionaries at a common platform share and reflect on their performance and constraints. Based on the analysis of previous quarter achievement, shortfalls in each area, all project teams in the region developed SOS based on the critical review and appropriate strategies to enhance performance. Implementations in the specific site is carried out based SOS and develop alternate strategies to where ever necessary during the monthly review and planning meeting at the project level. This ongoing quarterly process has been useful in identifying the gap in service delivery; develop road map and ensure quality service uptake by HRGs.
Streamlining of Positive Prevention: Beginning with maintaining separate line list for positive HRGs, effective linkage was established with ART centres, in addition to a set of other core activities, viz., ensuring ART enrollment and follow up, maintaining separate files for all positive HRGs, maintaining master health checkup card, regular counseling for contact tracing and service linkages, linkages for welfare needs, etc.
KNOW YOUR HRG campaign for Site validation: This helps the TI to weed out duplicity of HRG in line list; identify the HRGs migrated and expired in different project sites and validate the sites with actual HRGs.
Availability and applicability of structured outreach communication tool.
PE photo directory: Over the years, it was hard to ensure the authenticity of PEs engaged now and then. Hence PE photo directory is made as mandatory with personal information and photograph affixed with PE's signature.
Peer Communication Unit wise documentation of services was introduced to ease the tracking of services obtained by HRGs. This in turn helps the ORW to plan the outreach and also helps for PCU wise monitoring to enhance service uptake by HRGs.
Availability and applicability of structured outreach communication tool.
Telephone Directory of Secondary stakeholders.
PE photo directory: Over the years, it was hard to ensure the authenticity of PEs engaged now and then. Hence PE photo directory is made as mandatory with personal information and photograph affixed with PE's signature.
Peer Communication Unit wise documentation of services was introduced to ease the tracking of services obtained by HRGs. This in turn helps the ORW to plan the outreach and also helps for PCU wise monitoring to enhance service uptake by HRGs.
· Established Vocational Training Centre and Help Desk for HRGs.
BEST PRACTICES OF THE PROJECT:
With an extent of many activities are succeeded in effectively implementing HIV prevention programme by creating models, which can better say best practices to withstand even after the successful withdrawal of the projects. The contributory factor to this is the willingness of the implementing agency, dedicated project staff, CBOs and the stake holders to internalize the component and make sincere effort for its implementation.
NUTRITION FOOD PROGRAM FOR PLWHA:
Since the initiation of Suraksha TI program in 2007, District Panchayath started the allocation of budget for the supply of nutrition food kits in every year for all registered PLWHA's on monthly basis. It was a model project in the state and now the state government made the policy to all the District Panhayaths in Kerala to allocate fund for the same. The details fund provided by Dist. Panchayath as follows:
2007-08 : Rs. 2,86,000/-, 2010-11 : Rs. 6,83,640/-, 2011-12 : Rs. 5,00,000/-, 2012-13 : Rs. 8,00,000/-, 2013-14 : Rs. 10,00,000/-, 2014 – 15 : Rs. 12,00,000/-
SOCIAL PROTECTION SCHEMES:
More than Rs. One Crore has been mobilised towards social needs of stakeholders, economic rehabilitation and infrastructure supports. As of December 2014, specific assistance includes a) issuance of identification documents and ration cards for subsidized food to 86 persons; b) nutritious food for 5 PLWHA; c) financial support and loans for the 25 needy persons; d) homes or land for the 5 homeless FSWs; e) education of 53 stakeholders and their children; f) health insurance or health care cost; g) transport of 4 PLWHA to treatment centers; h) employment assistance and help in set up of small businesses; i) continuing education and vocational skill training; j) sensitization activities to decrease incidents of police atrocities and harassment; k) rent-free office spaces for outreach centers, drop-in centers and community meetings.
"AIDS FREE MALAPPURAM" INITIATIVE:
Jilla Panchayath Project takes a leading initiative for the "Aids Free Malappuram" with the support of LSGD's, Dist. Medical Office, Police & Other Departments & NGO's.
SCHOOL KIT & AWARD DISTGRIBUITON:
Jilla Panchayath Suraksha (SW) Project distributed school note books and other Stationery items to the children of stakeholders and granted awards for those who scored high marks in SSLC and plus two examination.
"NAVAJYOTHI'' PROGRAME:
The main objective of the programme is to fulfill the educational needs of stakeholders who could not continue their education or ceased their schooling due to their worse living situations. As part of this programme the TI could register stakeholders with Saksharada Mission, it includes 20 for Literacy, 26 for 4th level, 35 for 7th level and 39 for 10th level equivalency exams.
CELEBRATION OF FESTIVES AND OBSERVANCE OF DAYS:
Jilla Panchayath Suraksha project celebrates all important Festivals and Day Observance to bring the marginalized community to the mainstream of society.
SBI-UNI SURAKSHA –PERSONAL ACCIDENT INSURANCE SCHEME.
In the current phase, the project insured the all PEs with the SBT UNI suraksha personnal accident insurance scheme. The premium amount is Rs 75/ only and the sum assured of Rs/ 300000,
IGP FOR FSW's:
The District planning committee approved the proposal of Suraksha SW (TI) funded by District Panchayath Malappuram amounting Rs. 10 lakhs to start a curry powder unit for the stakeholders. Earlier Edakkara Gramapanchayath granted 10 cent of land to start this IGP unit.
DISTRICT LEVEL HIV-COORDINATION MEETING:
District level HIV co-ordination committee meeting is held on every 4th working day at the project level, participated by ICTC/FICTC/TB/ART/Prathyasa representatives.
WORLD AIDS DAY PROGRAM:
Every year, December 1st observes globally as World Aids Day. The day reminds us that HIV infection is still posing a serious threat to have human race and that the society has a lot to do in preventing as well in taking care of the infected.
For a better tomorrow we can move towards one aim with "Zero new HIV infection, Zero Discrimination and Zero Aids related death." This is the slogan of the years Aids Day.
The Suraksha Project organizing the WAD observance with several programs like district level Aids Day Awarness Rally, Red Ribbon Campaign, Seminar, Street Drams, Exhibitions, I.E.C. Distribution, Folk Art, Canvas Painting, Quiz & Essay writing for students etc… with the interaction of District Panchayath, District Medical Office (Health), Arogya Keralam, District Collectrate, Janamaithry Police, Malabar Special Police, Field Publicity Directorate, District Information Office, NYK, Kudumbashree, Social Welfare Department and Educational Institutions for the co-operation and success of the programme.
ICTC DAY – A DAY TO CARE YOUR FRIEND FROM HIV/AIDS
People celebrate lot of days like "Mothers Day, Women's Day, Valentine's Day etc…". Hence the District Panchayath Surksha (FSW) Project celebrating a day named "ICTC DAY''. We, through our Peer Educators were engaged with their friends doing with HIV/AIDS Testing through the outlets of KSACS (ICTC) all over the district. In order to overcome the shortage in the ICTC achievement of the suraksha (sw) project, the Project Manager conceived an idea of ICTC DAY and requested to all the ICTC counselors/staff nurses to give an apt date to conduct a contest for Peer Educators to increase the ICTC achievement. The Project Manager also requested to consider a date in the first half of the month without hinder their other programmes like ANC Referrals, ICTC outreach or other engagements, to keep the sustainability of the service in a month. We had done 106 ICTC testing in the ICTC Day. Seven Peer Educators were eligible for the special gift of P.M. And another remarkable point was the remote ICTC (standalone/facilitated) centers like Thirurangadi, Kalikavu, Mankada were boosted with activities in the particular day.
SKILL UPGRADATION TRAINING PROGRAMME:
With the co-operation of Nehru Yuva Kendra, the project conducted two phases of various vocational training programs for the 70 stake holders. It includes Handicraft making, Fashion Designing, Fabric painting Etc. All PEs & Stake holders participated in this vocational training program
**************
DETAILS OF GOVERNING PROJECT EXECUTIVE BOARD
Mr. A.P Unnikrishnan
President, District Panchayat, Malappuram
Mrs. Sakkeena Pulpadan
Vice President, District Panchayath Malappuram
Mr. V Sudhakaran
Chairperson, Health & Education Standing Committee
Mrs. Anitha Kishore
Chairman, Public Works Standing Commitee
Mr. Ummer Arakkal
Chairperson, Development Standing Committee
Mrs. Hajarumma Teacher
Chairperson, Welfare Standing Commitee
Mr. Saleem Kuruvambalam
Member, District Panchayath, Malappuram
Mr. Vettam Alikoya
Member, District Panchayath
Mrs. Preeti Menon
Secretary, District Panchayath, Malappuram
********
PROJECT DIRECTOR
Secretary, District Panchayat
PROJECT MANAGER
Hameed Kattuppara
Phone 9495334490